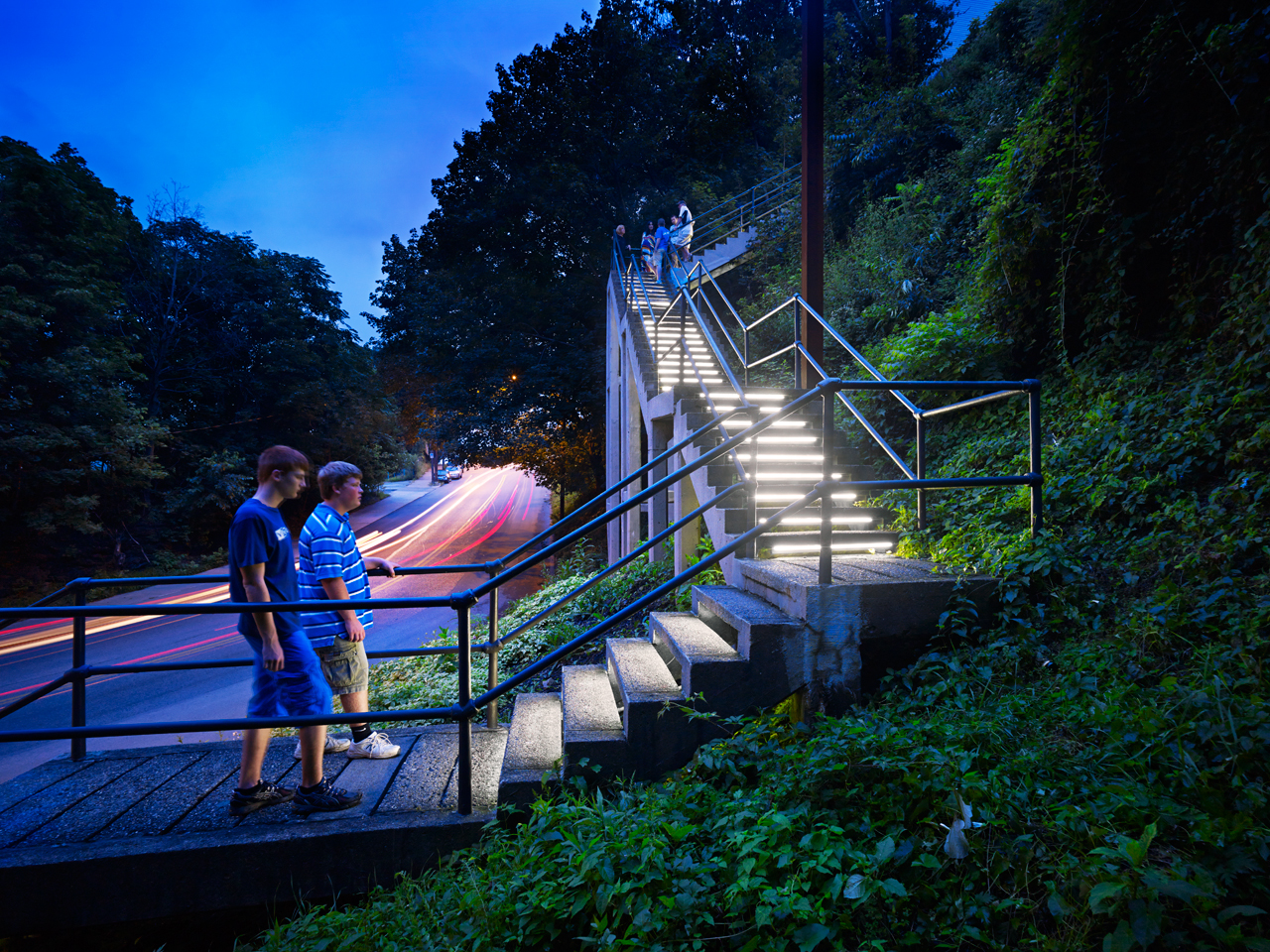 South 18th Street Steps
The site is an existing public stairway on South 18th Street, a major connector between Pittsburgh's South Side Flats and South Side Slopes. At seven stories high, it is the de facto neighborhood icon – but it had an image problem. Not only were the steps in disrepair, but with just one cobra head halfway up, the insufficient lighting projected an image that the neighborhood was unsafe. The community intended to reverse these perceptions entirely, celebrate this gateway, and broadcast a positive message about the Slopes.
Each open riser has a warm white LED light bar. Cor-ten steel columns are forked at the top to mount theatrical fixtures. These in turn project a carpet of colored and patterned light onto the steps. The upper terminus is essentially invisible where it plugs into a densely populated residential street. An illuminated pole sign announces the steps' location. Cor-ten steel materials throughout the project resonate with the historic industrial lifeblood of the community. An L-shaped sign at the lower terminus highlights steps and other amenities in the area, (and screens the switchgear that the electrical inspector insisted we locate front and center).
Since construction, the steps lighting project has become a catalyst to increase public awareness of the South Side Slopes Neighborhood Association with measurable results. Web site traffic has increased significantly, membership has increased exponentially, and volunteer efforts for beautification and other programs are now capturing a much younger audience with the highest levels of participation to date. At the same time, foundations, businesses, and private funders are now stepping forward to help this all-volunteer non-profit take on equally bold neighborhood improvements. Can lighting and signage do all of this on its own? Certainly not. It takes a village. But celebrating a neighborhood icon on a busy street is definitely having an effect.
PROJECT TEAM:
Loysen + Kreuthmeier Architects (architect)
Watson Engineers (structural engineer)
studio i architectural lighting (lighting design)
Klavon Design Associates (landscape architect)
CONTRACTORS:
3 Point Group (electrical)
T.C. Stein Industries, LLC (steel fabrication)
Technique Architectural Products (steel signage)
SignPro (site signage)
PHOTOS:
Massery Photography, Loysen + Kreuthmeier Architects
COMPLETION: 2012